Brynna Sherony is so enthusiastic about her senior year at California University of Pennsylvania that she almost wishes she was beginning college again.
One source of her excitement is Meghan Larsen-Reidy, the new director of campus ministry at Cal U, Washington & Jefferson College and Waynesburg University.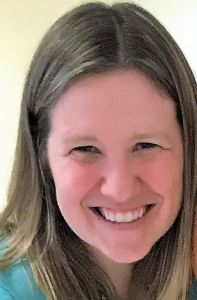 "Meghan can definitely make a difference," said Sherony, who helps lead the campus Newman Club called Cal ROCKS (Reaching Out for Catholic Kinship). "She's interested in the students' lives. It makes us feel valued, and she has amazing ideas for service projects and mission trips."
Supporting the efforts of three chaplains, start-up funding for the campus ministry program is provided through sacrificial gifts to Our Campaign for The Church Alive! from donors across the diocese.
"My hope is to be a companion to the students in their formation," said Larsen-Reidy, who previously served as director of religious education and youth ministry at St. Anne Parish in Castle Shannon. "Just being present is important, as well as inviting students to get involved."
The college years are critical to keeping younger Catholics connected to the church. A study from the Pew Research Center found that nearly 80 percent of those who leave the faith do so by age 23.
Heading off to college is like "going from the passenger seat to the driver's seat," according to Gary Roney, director for adolescence ministry in the diocese. "Meghan can help advance the values that students receive at home. She is an energetic, dynamic person who wants to connect with as many people as possible."
Father Adam Potter, co-chaplain at Washington & Jefferson College, agrees that young adulthood is a key time of formation.
"Students are experiencing great freedom and independence," Father Potter said. "They're also seeking, and it's important they get their identity right. In a world that emphasizes 'doing,' the Christian life emphasizes who you are in relation to God."
At Cal U and Waynesburg, Larsen-Reidy works with Capuchin Father Al Carver in coordinating Masses, service projects and Festivals of Praise. Dividing her time between three colleges is a challenge that she welcomes.
"Young people are yearning for the faith but often don't realize it," Larsen-Reidy said. "They have a desire to be joyful and at peace, but there's just so much noise."
"Our culture tells us that being faith-filled isn't cool, and a lot of people think of Catholicism as being strict in following rules," said Marybeth Cocchi, a junior from Mt. Lebanon who is studying nursing at Waynesburg University. "But it's really about relationship and intimacy with Christ.
"My Christian friends have challenged me to delve more into my faith," she added. "It's positive peer pressure. They encourage me, and ask if we can pray together."
"When our faith is lived out in its vibrancy, it's contagious," said Father Dan Waruszewski, co-chaplain at Washington & Jefferson. "Students often are distracted by technology and materialism as our culture turns away from virtue."
After graduation, Sherony wants to find a parish where other young adults are excited about their faith.
"We need opportunities to get involved and to be welcomed," she said.