St. Alexis parishioners processed into their new church for a Dedication Mass on October 22, gazing around in wonderment, as if it were a dream.
It had been a dream, more than a half century in the making.
The church in Wexford is the fruit of sacrificial gifts given in three separate fundraising efforts, capped by Our Campaign for The Church Alive! It replaces a gymnasium building that was intended to be a temporary worship space when it opened in December 1962.
The campaigns, held over the course of 15 years, were led by St. Alexis' longtime pastor, Father Paul Zywan.
"I wanted to challenge our people to think big for God," Father Zywan said. "This new building is a testament to what we can do as church. It is the collaborative work of everyone."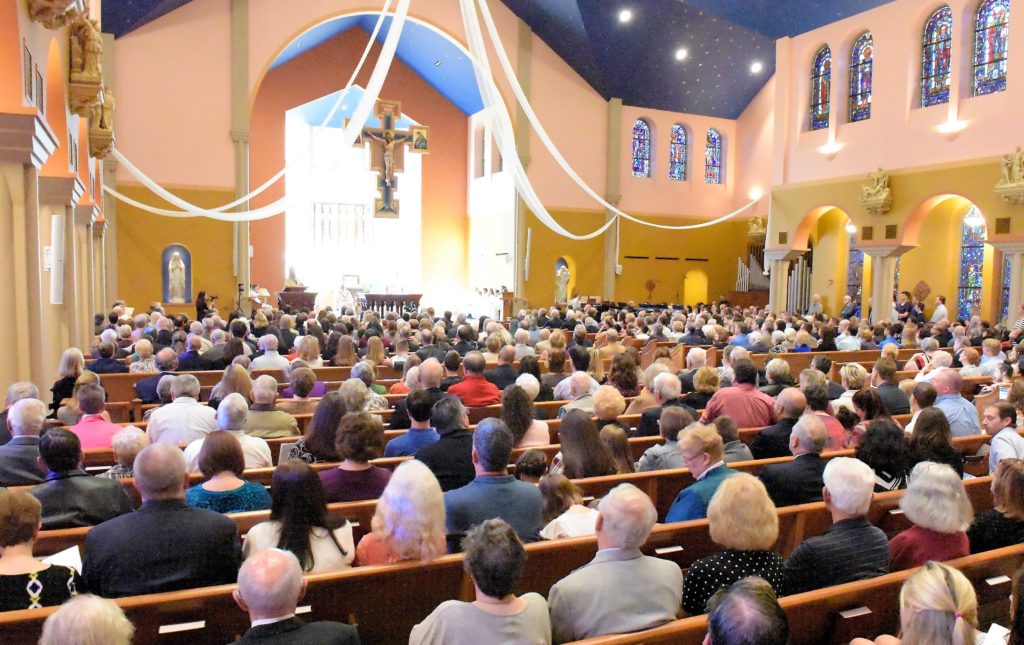 The traditional design, 900-seat church includes sacred objects from area churches that have closed: stained-glass windows from St. Mary Magdalene in Homestead and St. Gabriel the Archangel on Pittsburgh's North Side, bells from St. Josaphat on the South Side, Stations of the Cross from St. Stanislaus in Ambridge, and statues from St. Stephen in McKeesport and Holy Family of Nazareth Motherhouse in Bellevue.
Bishop David Zubik remembers those particular three dimensional Stations of the Cross, having grown up at St. Stanislaus Parish and school. In his homily he recalled the lessons of his first grade teacher.
"Sister Estelle helped me come to know who Jesus was, and to remember that you are a temple of God's presence," Bishop Zubik told the overflow congregation. "Make sure that Jesus Christ is the foundation of our lives."
"Our new church hopefully means we can fulfill the promise of bringing Jesus Christ to others and being transformed," said Rob Dougherty, member of the pastoral council. "We have embraced the idea that the church isn't a building."
Tim Johnson, who helped raise funds in all three campaigns, reflected on the spirituality of giving.
"This church is a lasting testament to the faithfulness of God, to what His people can accomplish with great faith, and when our works match that faith," Johnson said. "Thank you to all the donors, from the bottom of my heart."
"I'm hoping this will motivate more people to develop a personal relationship with the Lord, especially those who have left the church," donor Phil Ignelzi said. "The building is important, but we want to be a welcoming parish and bring people back."
"This Mass was a moving experience," said parishioner Dan Veres, who supported the Church Alive! campaign. "Having so many people participate in the liturgy in such a beautiful church impressed upon me that, indeed, the church is alive."
St. Alexis Parish was established by Bishop John Wright on the site of the Milbert Farm. Led by founding pastor, Father Francis Rodgers, Sunday Mass initially was celebrated in the Pine Valley Roller Rink at Route 19 and Pine Creek Road. Weekday Masses were held in an old chicken coop that was converted into a small chapel.
Today, St. Alexis Parish is the spiritual home of more than 2,100 families and the site of the new Blessed Francis Seelos Academy Early Childhood Center.
At the end of the Dedication Mass, Father Zywan thanked all in attendance, especially the nearly 1,000 donors who helped make the dream of a new church a reality.
"Thank you for your trust and sacrifices, and for joining me in dreaming big," Father Zywan said.