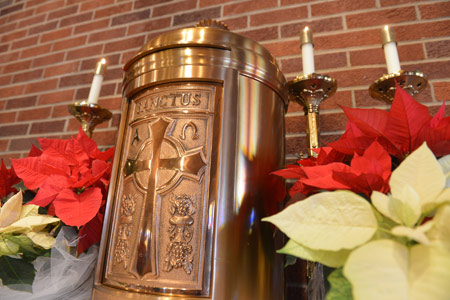 SHARING OUR GIFT OF FAITH
Every Advent, the Angel Tree at St. Catherine of Sweden Parish in Allison Park is adorned with more than 800 name tags, each representing someone in need. In a scene that's repeated in parishes across our diocese, families eagerly choose an angel, ready to share their precious gift of faith.
"Our parishioners see their faith as a gift that's been passed on through the generations," said Father Steve Neff, pastor of St. Catherine of Sweden. "We can't wait until Christmas for the gift of Jesus. We're ripping it open with excitement!"
Bishop David Zubik's Prayer for The
Church Alive!
Father in heaven,
We, the Church of Pittsburgh,
praise You for the gift of your Son.
As a people who follow in His footsteps,
we pray for the grace
to embrace His mission, share His love
and Proclaim the gospel with courage.
We thank you for the gift of the Holy Spirit
Who remains with us always.
We commit ourselves to all we do with your many gifts,
not done for ourselves,
but for You and for one another.
Help us, Lord, to be your Church Alive!
by living, sharing, praying as one people
In Allegheny, Beaver, Butler, Greene,
Lawrence and Washington counties.
Inspired by the Holy Spirit,
grant our prayer as we offer it to You
in the Name of your Son Jesus,
and with the help of our Blessed Mother,
who protects us under the mantle of her garment.
Hear us. Guide us. Renew us.
Now, and forever,
Amen.
OUR CAMPAIGN FOR THE CHURCH ALIVE!