Father Tom Lewandowski remembers growing up in Duquesne when the sprawling steel mill employed thousands, pews were packed every Sunday in the city's four Catholic churches and students filled three Catholic schools.
Today, U.S. Steel's Duquesne Works is long gone, shuttered in 1984 and later torn down. The Catholic schools closed, and Duquesne's parishes are now joined with two neighboring churches in West Mifflin. But as parish administrator, Father Lewandowski has high hopes for a spiritual renewal.
The volunteer board of Our Campaign for The Church Alive, Inc. is helping with a grant to support youth ministry and religious education at St. Joseph Parish and Christ the Light of the World Parish's two sites in Duquesne, and St. Agnes and Holy Trinity parishes in West Mifflin. Holy Trinity moved from Duquesne in 1969, building a new church in West Mifflin.
The funding comes from the diocesan case component "Grants to Parishes in Need," meant to "help our sisters and brothers in parishes that are struggling in those areas of our diocese where the church must remain present."
"These churches are still important—a sign of life and vibrancy," Father Lewandowski said. "They represent a spirit of hope."
Youth minister Joann Giuffre is bringing together teens from all four parishes, building a core group of junior high students. She's created a youth ministry center in the church hall at St. Hedwig, part of Christ the Light of the World Parish. Plans are taking shape for retreats, mission trips, youth conferences and service projects, as well as fun activities, making friends with one another and with Jesus.
"We must be welcoming to the youth and let them be a voice in the church," she said. "Invite them to serve on the pastoral council, during at Mass as lectors and ushers, and to join prayer groups."
The needs in Duquesne are significant. After peaking in the 1930s, the city's population fell steadily as the mill downsized, then dropped 24 percent between 2000-10. More than a third of Duquesne's 5,600 residents live below the poverty line.
Designated by the state in 1991 as a financially distressed municipality, the city's public school district also is troubled, with the high school closing a dozen years ago. Students now attend West Mifflin Area High School or East Allegheny High.
About 100 young people attend CCD classes at Holy Name church in Christ the Light of the World Parish. Director of Religious Education Donna Lew-Buechel hopes to get more parents participating.
"We're planning on starting a family catechesis program in the fall," she said. "We want the kids to learn how to live their faith and incorporate it into their everyday life."
All parishioners have an opportunity to get more involved. At Masses last weekend, Father Lewandowski asked everyone to fill out a ministry sign-up form, as 14 ministries in the four parishes are unified.
"I invite you to open your heart to the Holy Spirit," he said.
Father Lewandowski also expressed appreciation to donors who offered sacrificial gifts to the campaign.
"You are investing in building the faith and a relationship with Jesus Christ in the hearts of youth," he said. "I'm very grateful for the help to empower our youth and their families."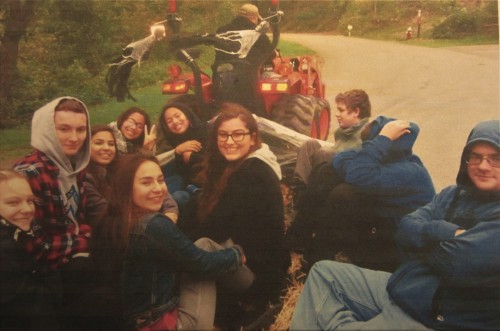 Young people from Christ the Light of the World Parish enjoy a "Haunted Hayride" last fall at Camp Guyasuta in Sharpsburg.